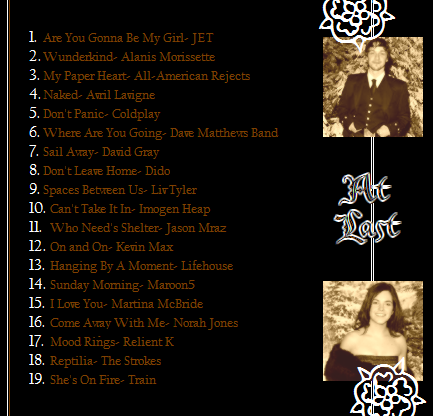 All of the files are from yousendit.com, so it should work just fine for the next week. Let me know when the songs stop working, and I'll upload them again.
1. Are You Gonna Be My Girl- JET
2. Wunderkind- Alanis Morissette
3. My Paper Heart- All-American Rejects
4. Naked- Avril Lavigne
5. Don't Panic- Coldplay
6. Where Are You Going- Dave Matthews Band
7. Sail Away- David Gray
8. Don't Leave Home- Dido
9. Spaces Between Us- Liv Tyler
10. Can't Take It In- Imogen Heap
11. Who Need's Shelter- Jason Mraz
12. On and On- Kevin Max
13. Hanging By A Moment- Lifehouse
14. Sunday Morning- Maroon5
15. I Love You- Martina McBride
16. Come Away With Me- Norah Jones
17. Mood Rings- Relient K
(Lol...this actually reminded me of when Anna slapped him...)
18. Reptilia- The Strokes
19. She's On Fire- Train
And the title At Last belongs to
springfall_kg
. I just borrowed it for a bit. ;-)
Crossposted to
tumnuslucy_fans
.
I've assembled a soundtrack for springfall_kg's story At Last. Because I was bored, non-tired, and I just love that story so much.
Current Mood:

have to pee....still...

Current Music:

Love Me Do- The Beatles